Wasp Removal Peterborough
PROFESSIONAL and GUARANTEED
Wasp control SOLUTIONS BY
THE EXTERMINATORS INC.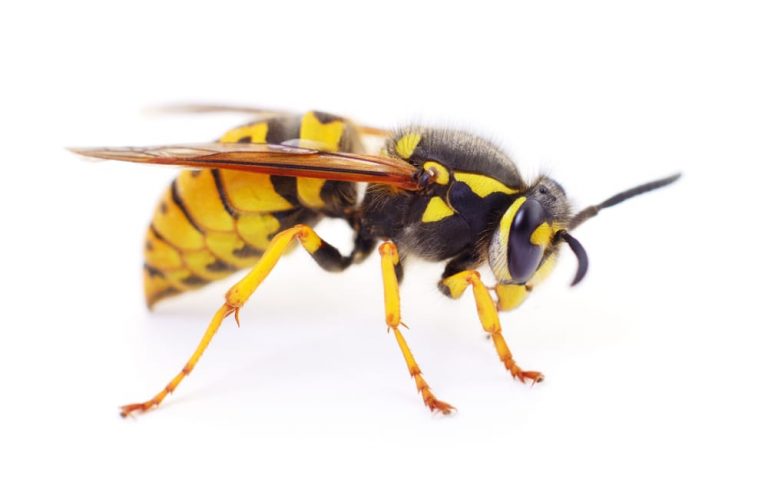 WE TAKE PRIDE IN OUR WORK AND SEE EVERY JOB THROUGH. IF WASP RETURN WITHIN THE CONTRACTUAL PERIOD SO WILL WE.
If you continue to see contractual pests following service and within the guarantee and warranty period, we will return at no additional cost. All of our services are guaranteed, and we provide extensive warranties to ensure that all pests are gone, and our customers are happy. Call Exterminator Peterborough for wasp control services in Peterborough.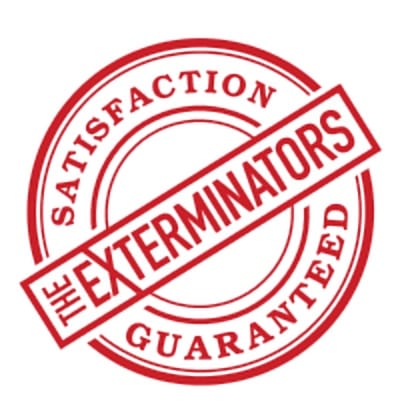 WASP CONTROL AND WASP NEST REMOVAL
We provide effective wasp control services throughout the Peterborough area. Our technicians are thoroughly trained, licensed, and experienced in the removal of wasps and their nests. We offer comprehensive solutions to all wasp species, including yellow jackets, hornets, mud daubers, and more. Our treatments are safe, reliable, and affordable. If there are wasps on your property, call us and a technician will arrive promptly for an inspection and treatment that lasts.
The first step of the treatment is an inspection in which we look for the wasps' nest and identify the species. Each species requires its own specialized treatment, and the location of the nest affects our approach. Nests are often found in trees, soffits, and gaps in the roof. In some cases, they are within wall voids, attics, or ventilation systems on the interior.
After the inspection, the technician on duty provides recommendations and a walkthrough of the treatment required. The pests are exterminated with a commercial-grade insecticide, then the nest is removed if it can be accessed. Our technicians are equipped with the right gear to remove nests safely. The insecticides we use also have residual effects to keep wasps away from the area for weeks.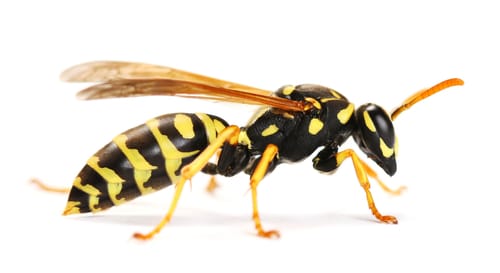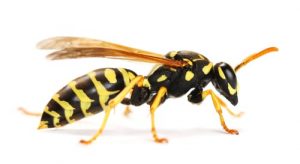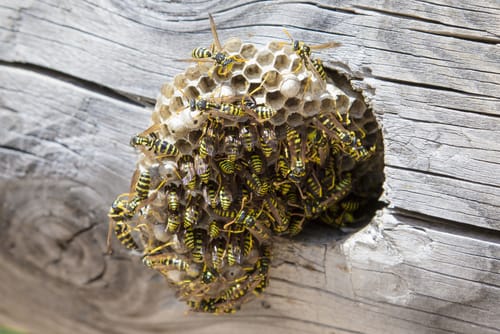 CALL US TODAY AND OUR LICENSED AND TRAINED PROFESSIONALS WILL SOON BE AT YOUR DOORSTEP WITH A GUARANTEED SOLUTION.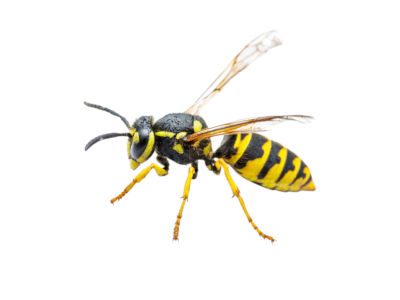 Yellow jackets are the largest of Ontario's wasps. These wasps measure between 12 and 18mm in length and appear yellow and black. They have slim bodies and wings that fold laterally when they are at rest. Yellow jackets usually attach their nests to man-made structures such as the eaves of the roof or a hole in the wall. Some are built within hollow logs or tree stumps. Yellow jacket nests are built in the summertime and do not last the winter.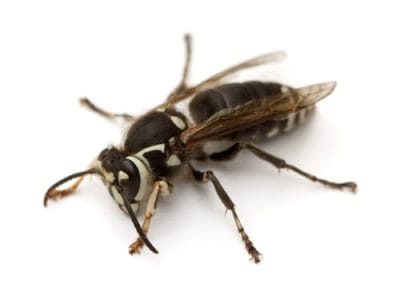 Bald-faced hornets are more easily identified thanks to their black and white colouring. At 13 to 20mm in length, they are slightly larger than yellow jackets. Bald-faced hornets build papery nests that reach 60cm in height and 45cm in diameter, similar to the shape of a football. Nests are usually built above ground, hanging from tree branches, overhangs, and soffits. Like other wasps, bald-faced hornets usually emerge in the spring and die off when temperatures fall.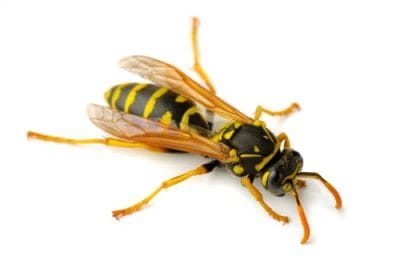 Paper wasps look similar to yellow jackets, but they are larger. Paper wasps measure between 10 and 25mm in length. They have orange antennae and legs that hang down from their bodies when they fly around. Like many other species, paper wasps live in colonies and build nests that appear grey and paper-like. Paper wasps usually build their nests in trees and under the eaves of the house, shed, or garage.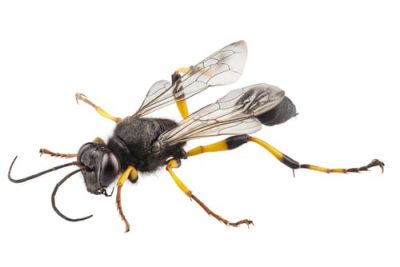 Measuring up to 25mm in length, mud daubers have long, slender bodies and tiny waists. They vary in colour and may appear yellow, black, or blue. Mud daubers are solitary creatures that build nests out of mud. They are not aggressive, but they can appear suddenly and cause a disturbance. If there are mud daubers on your property and they are giving you trouble, we can get rid of them for you.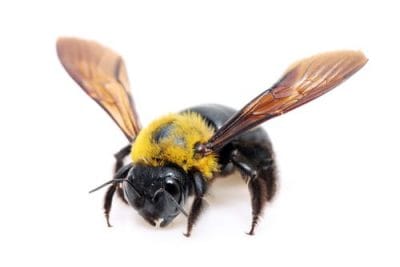 Carpenter bees are problematic because they cause damage to wooden structures. They can often be found tunneling into softwood decks, roofs, and window frames. Like other bees, they feed on pollen, but they do not form colonies. Carpenter bees are solitary creatures. Note that we do not exterminate honeybees or bumble bees. If the species identified on your property is one of those two, we will help you find a bee rescue and removal service.
Exterminator Peterborough
Professionals have the skills and equipment to get rid of wasps properly. They have been thoroughly trained to recognize the causes of your pest issue and solve it most efficiently. The pest control products that professionals use are also much more effective than the ones you can buy in stores. This combination of tools and expertise provides an invaluable service.
Wasps pose a threat to your safety and wellbeing. A single sting will cause irritation and may cause an allergic reaction that requires medical intervention. If you have pets, they may wander into the infested area and get stung. Wasp nests can also get out of control, making it harder to get rid of them. Wasps will make your space rather unpleasant and risk getting into the house. Call a professional now if there are wasps on your property and they will get rid of them safely.