COCKROACH CONTROL PETERBOROUGH
PROFESSIONAL AND GUARANTEED
COCKROACH EXTERMINATORS BY
THE EXTERMINATORS INC.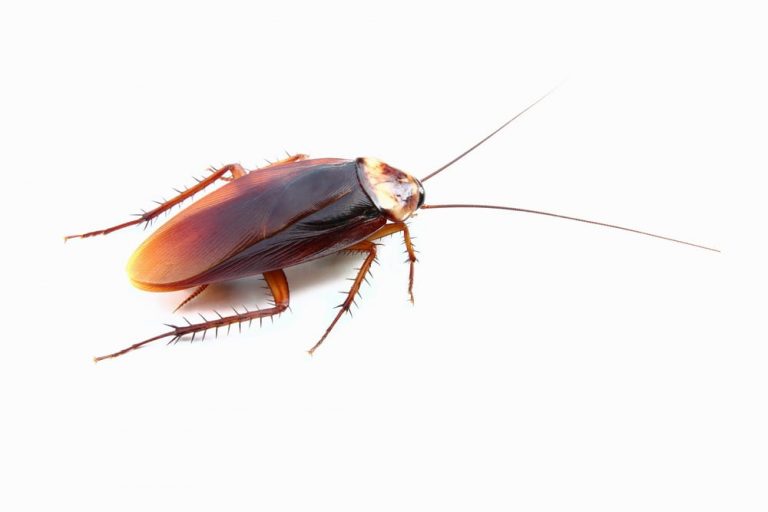 WE TAKE PRIDE IN OUR WORK AND SEE EVERY JOB THROUGH. IF COCKROACHES RETURN WITHIN THE CONTRACTUAL PERIOD SO WILL WE. 
If cockroaches return following treatment and within the guarantee and warranty period, we will return at no additional cost. We work hard to keep our customers pest-free. We guarantee every service and provide extensive warranties to make sure pests are gone and our customers are happy. Call Pest Control Peterborough for cockroach control in Peterborough.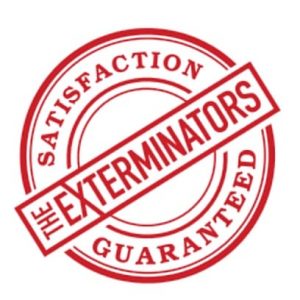 COCKROACH CONTROL PETERBOROUGH BY LICENSED AND INSURED EXTERMINATORS.
Cockroaches hide in the cracks and crevices of appliances, cabinets, sinks, and furniture. To be eliminated, they must be flushed out, but this can be challenging without the right equipment. Likewise, they resist store-bought pesticides, and their eggs are especially tough.
The technicians at Pest Control Peterborough use a combination of pesticides that eliminate cockroaches on the spot and help prevent their reoccurrence. Our ultra light volume mist reaches deep in the insects' hiding spots and flushes them out. This mist is generated by a professional piece of equipment that combines a low volume of insecticide with a high volume of air. Using the machine's wand, our technicians can direct this mist into those hard-to-reach areas and eliminate the pests immediately. A residual insecticide is also applied in areas of high activity to eliminate any cockroaches that may hatch later.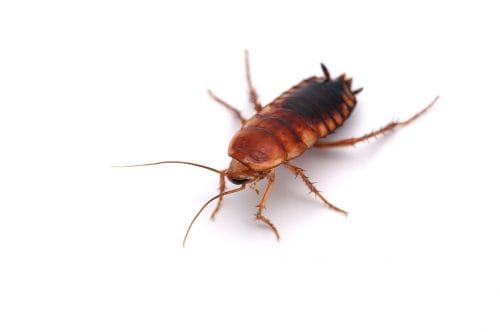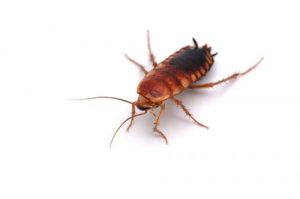 We use top-of-the-line tools and products to provide you with the best possible service. For situations in which we cannot use mist, such as in restaurants, we can use baits and dusts as alternatives. We provide cockroach infestation solutions and ongoing pest management programs for both commercial and residential customers.
CALL US TODAY AND OUR LICENSED AND TRAINED PROFESSIONALS WILL SOON BE AT YOUR DOORSTEP WITH A GUARANTEED SOLUTION.
COCKROACH FACTS AND MYTHS
Cockroaches are nocturnal, scavenging insects that will feed on practically anything. As omnivores, these pests will happily consume everything from fruits and starches to meat and fecal matter. They will even consume things we would consider inedible, like toothpaste. They also migrate from one place to the next in search of food, warmth, and moisture. Kitchens and bathrooms are therefore highly attractive to cockroaches. They enter people's homes and businesses by migrating through the walls or by crawling along the plumbing that is shared between units. These pests may also invade by hitching a ride on cardboard boxes, furniture, or luggage that enters the building. Once inside, they hide in the darkest corners and crevices of their favourite rooms and come out at night to feed. Cockroaches breed year-round and can each produce hundreds of offspring per year. Signs of infestations include the appearance of small, speckled droppings and brown egg casings within infested areas.
German Cockroach: The German cockroach is the most common species in Canada. This species likes to inhabit kitchens and bathrooms for their warmth, moisture, and proximity to food. It has a glossy, light brown, beetle-like body with two horizontal black stripes on its back. The German cockroach also has a visible pair of wings, but it does not fly. An adult cockroach of this species measures somewhere between 11 and 16mm in length. Babies, or nymphs, are very small and have two long antennae that stick out from their heads. Like other cockroaches, this species is highly omnivorous and will feed on whatever it finds. The German cockroach will even eat others of its kind.
The average female German cockroach breeds year-round and produces as many as 300 offspring per year. Under normal circumstances, she will lay 4 to 6 eggs throughout her lifetime, each containing about 30 to 40 offspring. These eggs, called oothecae, are brown in colour and measure 6 to 9mm long. The oothecae of German cockroaches and other species are hardy and resistant to pesticides. Female German cockroaches carry their oothecae on their backs until they hatch.

Brown-banded Cockroach: The brown-banded cockroach reaches 10 to 15mm in length and has a noticeable pattern on its body consisting of a tan line running horizontally across its dark brown back. This species is among the smallest of cockroaches and is much more adaptable. Unlike the German cockroach and Oriental cockroach, which prefer to live in especially damp areas, the brown-banded cockroach is often found in living rooms and bedrooms. The brown-banded cockroach is also active during the day. The average female brown-banded cockroach lives for about 200 days and can produce 14 egg capsules in her lifetime, each containing 10 to 18 offspring. As brown-banded cockroaches can be found anywhere on a property, they pose a significant health risk and must therefore be eliminated as soon as possible.

Oriental Cockroach: The Oriental cockroach, also known as the Waterbug, is the largest species of cockroach in Canada. This pest measures between 18 to 27mm in length and appears dark brown to black in colour. Its body is wider than other species and is very glossy. While the female oriental cockroach has two short wings below her head, the male has longer wings that cover about two-thirds of its abdomen. Neither can fly. The Oriental cockroach is most commonly found in low, damp places like sewers, porches, basements, washing machines, and drains, feeding on decaying matter and filth. This species is especially capable of spreading illnesses and risks causing allergic reactions.
COCKROACH INFESTATION HEALTH RISKS
Cockroaches are not only a nuisance but a health hazard. They pollute food, spread diseases, and even bite. Because cockroaches move freely from one place to the next, they risk bringing dangerous pathogens with them. Cockroaches will happily go from eating animal feces on the street to eating the food in your pantry. These pests risk making you, your employees, and your family sick with dysentery, diarrhea, salmonellosis, plague, or typhoid fever. In addition, many people are allergic to cockroaches and may suffer from symptoms of asthma. If your business is infested with cockroaches, you risk having to shut down. It is very important that you gain control of your property and eliminate an infestation as soon as it arises.
OTHER PROBLEMS ASSOCIATED WITH COCKROACHES
Cockroaches are disgusting pests that can be very difficult to get rid of. These insects have lived alongside us for thousands of years and evolved to resist pesticides. No matter how much you clean your space, the pests will linger and survive with virtually no food around. They will continue to multiply and be a problem. Cockroaches are not only tough, but burdensome as they produce a nasty smell and leave feces wherever they go. Cockroaches will make a mess of feces, shed skin, eggs, and dead bodies in their hiding spots within your kitchen, basement, office, or living space. If you are living with cockroaches, the best thing you can do is hire a professional for immediate removal.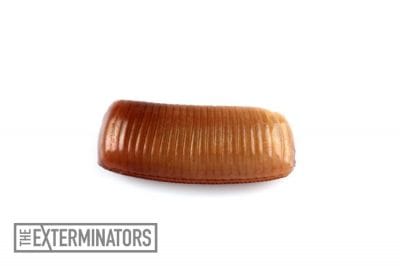 WHY HIRE A PROFESSIONAL PEST CONTROL COMPANY ?
While you can attempt to get rid of the pests yourself, you may find that cockroaches are some of the most persistent pests out there. No matter how much you clean, they will continue to live in your home. Cockroaches can go for months without food and they resist over-the-counter pesticides. Homemade solutions and store-bought pesticides are no match for these pests. Finding their hiding spots or where they may be coming from can also be a real challenge. Keep in mind that professionals are trained in cockroach removal and most companies guarantee their services. Technicians have the tools and experience necessary to wipe out an infestation and their pesticides are much more effective than those available in stores.

THE EXTERMINATORS IN PETERBOROUGH
Our Cockroach Control Solutions
Call Pest Control Peterborough for cockroach solutions that work. Whether you are dealing with a small problem or an advanced infestation, we are here to help. We provide solutions for residential, multi-residential, and commercial clients. Our technicians perform thorough inspections and use a combination of highly effective insecticides that reach deep in those hard-to-reach crevices where cockroaches hide. We use safe, high quality products with residual properties, so the cockroaches stay gone. If they come back during the warranty period, we will return at no extra cost. Our team of licensed technicians have several years of experience in cockroach removal and know every rule in the book. If you are currently facing an infestation, feel free to give us a call at 705-535-0854.